With this release, the functionality of the TsiLang Expert was improved. You can now load and save translations to and from DFMs without having to open DFMs in the IDE. This solves the IDE's problem with saving and loading translations for projects containing a huge amount of forms. If you have ever wanted to add your own language to the TsiLang Components Suite's UI, with the new version you can do so just by adding the language to the SIB file and loading it in the Expert's options dialog. With this release, the localization of TsiLang Expert and other TsiLang editors is made available for you.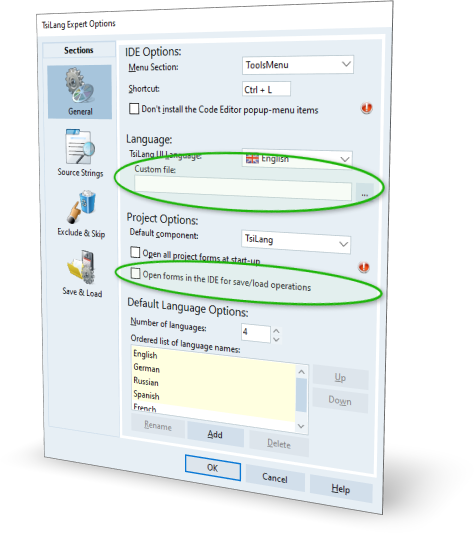 TsiLang Expert, Dictionary Manager and SIL Editor now include new additional in-app guides for various functions. Your translators will be able to familiarize themselves with the tools even faster.
To provide you with the ability to create SIL or SIB files from your DFM files, we've created the DFM2SI Wizard that can create SIL or SIB file from the DFM without the IDE.
Some important fixes and improvements were made to the core components:
GlobalExclusionList property functionality improved
New method added to TsiLang- MessageDlgWithCheck. It displays a regular message dialog with a checkbox at the bottom.
Added the ability to translate resource strings under MacOS, Win64, and Linux64 platforms in addition to the existing ability under Windows 32. This applies to RAD Studio 10.4 and later! Many thanks to Sebastian Zierer for the help and raising this!
Implemented an important fix for saving SIL files with UTF-8 encoding.
Some fixes and improvements were implemented in SIL Editor and Dictionary Manager.
We would like to thank DIONISIS DIVARIS for the Greek localization of the SIL Editor, Dictionary Manager, and help files!
We really appreciate the help of Stanley Kid for the maintaining of the Ukrainian localization of the SIL Editor!
Detailed description of the TsiLang Components Suite is available at the TsiLang Components Suite home page .
To download the latest version just navigate to our download page.