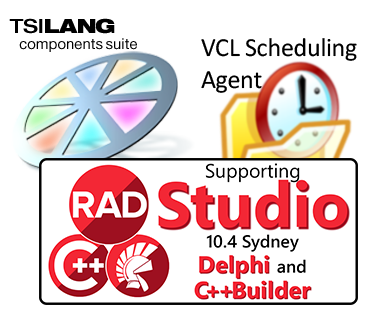 We're very glad to inform you that we just released new versions for both of our components libraries with support of Embarcadero RAD Studio 10.4 Sydney!
RAD Studio version 10.4 includes over 1,000 quality improvements and features. These range from language enhancements to more high DPI features and many important bug fixes.
We're very proud to be in the leading pack with release of our products supporting new version of RAD Studio.
TsiLang Components Suite is successfully adapted for RAD Studio 10.4 and brings you full power of professional multi-language and localization solution for ALL TARGET PLATFORMS supported by the IDE. Localize and internationalize mobile and Mac OS applications with the same power and flexibility as you do under Windows target platform.
VCL Scheduling Agent brings a full power of Windows Task Scheduler Service at your disposal. Create, manage and execute Windows tasks with just several lines of code the way you're used to.
You can download all latest version of our products at our download page: https://www.sicomponents.com/download