MSEW
Features
Auto-hide form
MSEW allows hiding it automatically when mouse goes from its panel, the same behavior as auto-hide behavior of Windows task-bar.
Always on top
MSEW allows keeping its panel always above all running applications.
Number of desktops
MSEW allows you to configure the number of virtual desktops from 1 up to 10.
Desktop's preview
MSEW allows you to see the whole desktop appearance and applications running on it without switching to this desktop.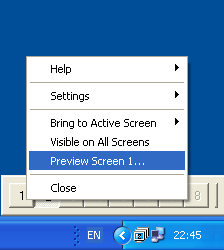 MSEW
Keyboard shortcuts
You can switch the desktop using your keyboard. Press Ctrl+Alt+<X> (default settings), where X is the number of the desktop you want to activate. There is possible to configure which keyboard shortcut to use for switching virtual desktops.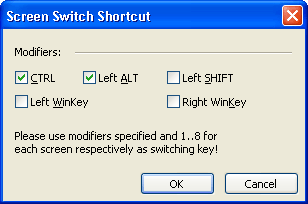 Configure shortcut
Persistent desktops
You can make the applications from one virtual desktop stay visible on all desktops.
Move windows across desktops
You can move a window from another virtual desktop to the active desktop without leaving it.
Transparency
You can move configure MSEW to be transparenced in order to a little hide it from your eyes.
Full customization for each virtual desktop
You can have absolutely customizable virtual desktops with own wallpaper, screen resolution, screen saver and icons.
User-defined shortcuts to move applications between virtual desktops
You can move applications to another virtual desktop using mouse or keyboard shortcut MSEW. Keyboard shortcut can be configured the same way as shortcut for switching desktops.
Switch to List
MSEW allows you to quickly see the list of running applications on virtual desktop and easily switch to any of them.
Band on Task Bar
MSEW can be displayed as a panel on Windows Task Bar.
Customizable Desktop Names
You can define custom names such as Games, Documents and so on, for each virtual desktop and it will be displayed on respective button.
Multilanguage User Interface
English, German and Russian languages available. You can add your own language easy and fast.
Update Manager
Built-in Update Manager allows to check and install available updates automatically.
System requirements
Hardware:
Intel or AMD processor (CPU); 32 MB of RAM; 5 MB free disk space
Operating system:
Windows 9x/ME/NT4/200/XP/2003/Vista